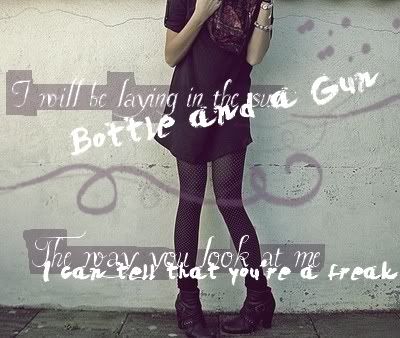 Himmelhoch jauchzent - zu Tode betrübt
Der Tag heute fing schon nicht so gut an. Doppelstunde Französisch.
Pardon, je ne connaîs rien!
Ach, und da war noch so ein Typ. Der meinte, dass mein Arsch schwabbelt.
Gott, wie ich solche Menschen hasse. Naja, irgendwie hat er sogar recht. Wahrscheinlich rege ich mich deshalb so auf...
Zu viel gegessen hab ich heute auch.
What´s the price of loosing control?
Aber als mein Schatz da war, gings mir schon viel besser.
Dann ist es noch ein richtig schöner Tag geworden.
*love*
told another lie today
And i got through this day
No one saw through my games
I know the write words to say
Like "i don't feel well," "i ate before i came"
Then someone tells me how good i look
And for a moment, for a moment i am happy
But when i'm alone, no one hears me cry

I need you to know
I'm not through the night
Somedays i'm still fighting to walk towards the light
I need you to know
That we'll be ok
Together we can make it through another day

I don't know the first time i felt unbeautiful
The day i chose not to eat
What i do know is how i've changed my life forever
I know i should know better
There are days when i'm ok
And for a moment, for a moment i find hope
But there are days when i'm not ok
And i need your help
So i'm letting go

I need you to know
I'm not through the night
Somedays i'm still fighting to walk towards the light
I need you to know
That we'll be ok
Together we can make it through another day

You should know you're not on your own
These secrets are walls that keep us alone
I don't know when but i know now
Together we'll make it through somehow
(together we'll make it through somehow)

I need you to know
I'm not through the night
Somedays i'm still fighting to walk towards the light
I need you to know
That we'll be ok
Together we can make it through another day

bisher 0 Kommentar(e)     TrackBack-URL

. designed